CM

Artist of the Month – Andrew Pavitt
Artist of the Month – Andrew Pavitt
CycleMiles loves Andrew Pavitt. OK we've said it. We love Paul Cleden, Hugh Ribbans, Lisa Takahashi, Eliza Southwood, + + + too, but Andrew has a special place in the CycleMiles Art of Cycling gallery. He was the very first artist we started working with plus we've met his mum and she's just as lovely as Andrew.
,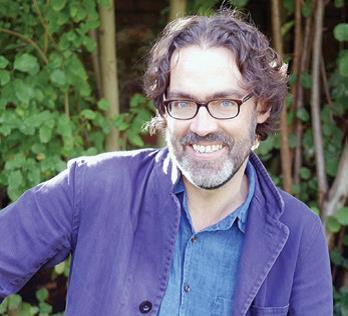 When we first met Andrew he'd just had his work accepted for The Royal Academy of Arts Summer Exhibition 2013. For most artists to be shown in the Royal Academy of Arts just once is recognition of the quality their art and an incredible achievement. Andrew went on to be shown again at The Royal Academy of Arts Summer Exhibition in 2014 and 2015.
Andrew hand prints his linocuts on Japanese rice paper (non-edible!) in very limited editions. Just 20 -30 of each print.  Consequently, as the editions have sold the value has risen. So if you love his work, it's worth buying now. We have just one Dunwich Dynamo left and we're betting the next time it's comes onto the market, probably at auction, it's price will have increased considerably.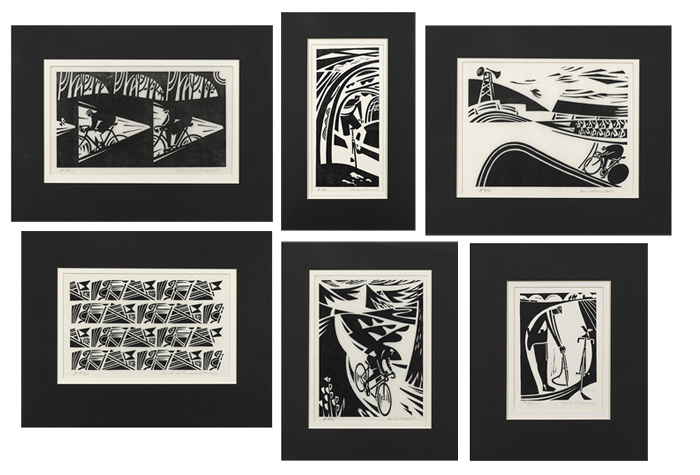 Andrew's Japanese rice paper prints include, Angel of the Mountains, (20 prints) Alpine Descent, (30 prints) Dunwich Dynamo, (20 prints) Mr Mellow Vello, (30 prints) Shadow Dancer, (30 prints) and The Fixer, (30 prints). Angel of the Mountains is perhaps the most unusual and least well known print in this series. It's Andrew's homage to the great Luxembourg cyclist Charly Gaul whose nickname was The Angel of the Mountains for his incredible mountain climbing cycling ability.

Andrew's work has featured in Boneshaker Magazine, London Cyclist and is perhaps most recognisable as the cover images for Jack Thurstons beautiful cycling books, Lost Lanes and Lost Lanes Wales. Images from these magazines and books have been produced by Jack and CycleMiles into three beautiful giclee prints, printed by the fantastic Rik at Ripe Digital in Bristol. Both Lost Lanes and Lost Lanes Wales were produced in editions of 200. Lost lanes sold out long ago but Lost Lanes Wales is fortunately still available.
Blue Rider was originally an image from an article on testicular cancer in Boneshaker. Andrew modified it slightly (compare the shapes of the clouds and shadows) for the giclee print and CycleMiles produced an edition of 100 which are editioned, titled and signed by Andrew. Again, fortunately Blue Rider prints are still available.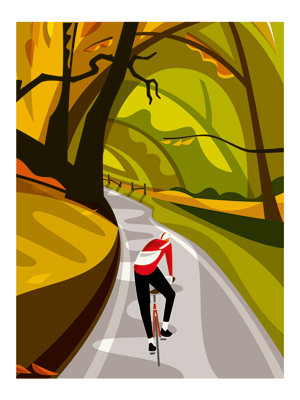 Andrew has recently finished a new work called 'Falling Leaves' capturing the essence of cycling in the Autumn. As usual, working closely with Andrew and Rik at Ripe Digital to get everything about the print right, CycleMiles has produced a giclee print of the image. It's available to purchase from the first day of Autumn 2017. If you'd like a low edition number, you can pre order now for dispatch on 21st September 2017.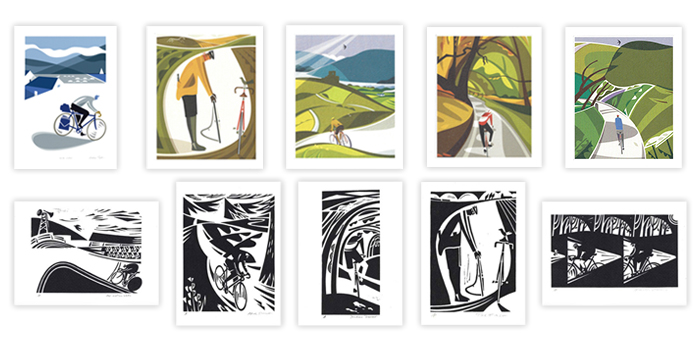 If you love Andrew's work but can't decide which print you'd like to hang on your walls nearly all of Andrew's prints are available as greetings cards produced by fabulous Art Angels or by CycleMiles. We even have a pack of all Andrews monochrome prints at a special price. At CycleMiles we produce all our in-house greeting cards on finest quality card at 5″ x 7″ so that they are easy to frame. We of course have our own great quality wooden frames available.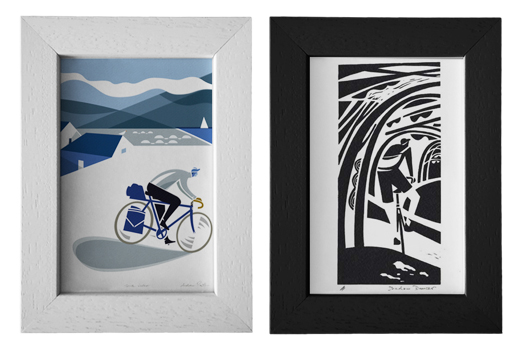 At CycleMiles we think the framing and presentation of Artists work is very very important. These are valuable pieces. All Andrew's work when mounted or framed by CycleMiles is in archival quality, Arqadia mountboard and moulding. It's the best and will protect and show your print off at it's best for years and years to come.
If you are familiar with Andrew's work already, we hope you've enjoyed seeing Andrews's work again and in particular his new work, Falling Leaves. If you haven't seen Andrew's work before. We hope you like it.