CM

Artist of the Month – Eleanor Grosch – USA
Artist of the Month – Eleanor Grosch – USA
We first 'discovered' Eleanor through the fantastic Art Angels Publishing company. Art Angels publish some of the most incredible Artist's work on cards, notebooks and giftwrap. Over 150 well known and new artists at last count, including other artists that CycleMiles shows and sells. The Eleanor image on a greeting card that caught our eye, was 'Les Tournesols', or, in english 'The Sunflowers'.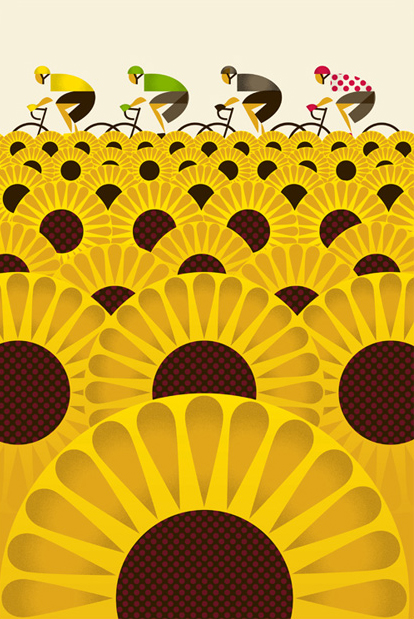 Eleanor created the 'Sunflower Field' image in 2013 as part of a series of images called 'Le Tour' celebrating the 100th Tour de France cycle race. There are five images in the series. 'Le Tour: Sunflower Field', 'Le Tour: Alpe D'Huez': 'Le Tour: Mont Ventoux': 'Le Tour: Arc de Triomphe': 'Le Tour: Finish Line'.

Sunflower Field has undoubtedly been the most popular image in the series. It's a simple, iconic representation of Le Tour de France. Riders, in the leaders jerseys of yellow, green, grey (white) and polka dot cycling behind a field of sunflowers. Like most of Eleanor's work she distills the essence of the greatest cycle race in the world into a simple, perfect colourful image, that is easily understood by cyclists and non cyclists alike.
The other most popular images in the series have been the classic mountain climbs of the Tour de France, 'Le Tour: Mont Ventoux and Le Tour: Alpe D'Huez. To anyone who's been to, ridden or watch riders ascending Mont Ventoux, Le Tour: Mont Ventoux is perhaps the most easily recognisable with it's snow markers and radio tower at the summit and with The King of the Mountains rider in their polka dot jersey in the lead. Le Tour: Alpe D'Huez is more subtle, hinting at the 21 hairpin bends of Alpe D'Huez.
With the popularity and success of the Le Tour series, Eleanor created similar bold and simple works celebrating the Giro d'italia and The Tour down Under.
Going back in time Eleanor's first cycling image was Free Wheeling. A modern racy image. This is a limited edition two colour screen print of just 150 prints on red heavyweight paper. The edition is nearly all but sold out now (we have just 2 copies) and very very collectible.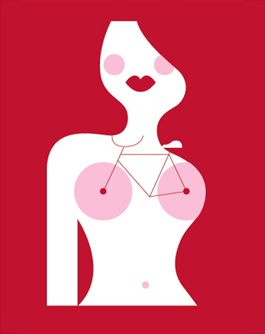 Finally, Eleanor's early Simple Bicycle range of prints should not be overlooked. They are beautifully printed heavy weight paper and look fantastic on their own or as a group. The colours are really bold and stand out. Even the brown. Not a colour we'd have thought of choosing. However, our favourite is silver; it shimmers, closely followed by pink. Simply beautiful.

We frame a lot of art at CycleMiles and have frames that fit all of Eleanor's prints. We think Eleanor's prints look best mounted edge to edge without any window mount.
CycleMiles has its own picture frames made using the very best quality solid wood Arqadia mouldings. When bought together with a Eleanor Grosch print, we will carefully frame, seal and string your print at no extra charge so that it is ready to hang. A special gift for any cycle enthusiast.